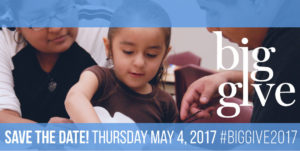 This year's Big Give will take place from midnight to midnight on Thursday, May 4, 2017.
The Big Give website will open one week before (on April 27). For the first time this year, donors will be able to make gifts early to their nonprofits through the Big Give. By giving early, you won't have to worry about missing the big day. From April 27 and on, you can give early, but you cannot pre-schedule your gift for a particular time on May 4. As soon as you choose to give, your donation will go through.
All early gifts will count toward your nonprofits' totals for the Big Give amount raised and for overall prize money (1st place, 2nd place…category prizes), but they will not count toward hourly prize awards.  The early gifts option is for those that may not be able to give on May 4, but still want their gifts to count for overall totals.
For more information and general FAQs, visit the website at https://www.thebiggivesa.org/info/faq.