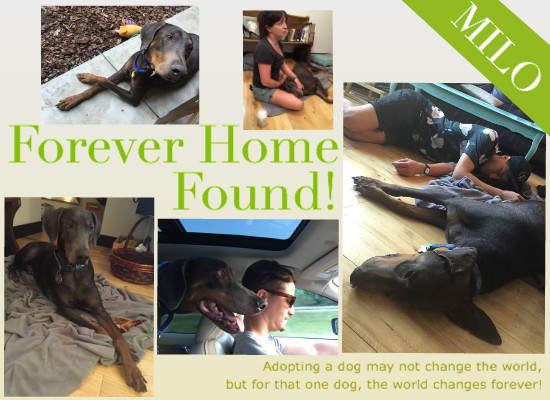 Update on Azul – we couldn't be happier for him and his new family:
Everything in Montreal is going wonderfully. Azul, now named Milo (a name he has completely adopted) has completely bonded with us, the wall has come down completely. He navigates around the house with confidence. He sleeps on his bed in our bedroom but has chosen a couple spot in the house where he likes to lay or hide his bones.  We brought him to both dog parks in our area, although he likes to stay near us, he was very playful with the other dogs. We are spending a lot of quality time with him where we focus on positive reinforcement with treats and affection. He likes the treats better. He listens very well although he has a little stubborn side but that's part of his personality.
On Sunday evening we took him on a very long walk and stopped by this outdoors event that occurs every Sunday of the summer near our house. Lots of family and groups of friends go and enjoy an open grill, a bar and acoustic music shows and performances all evening. Milo was extraordinarily well behaved, he was friendly with kids and all sized dogs. Everybody fell in love with him, he is quite the charmer. We receive tons of comments from strangers on the street about his elegance and beauty.